Next Generation SMW
New Fleet Management Antennas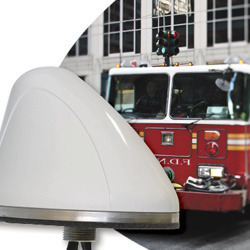 Schiller Park, IL, October 5, 2013 – Mobile Mark's next generation SMW Series Fleet Management Antennas gets rave reviews for it sleek, contemporary appearance. The tests confirm: the new SMW delivers identical performance to earlier SMW models, but in a trimmer profile.
The SMW antennas combine 3 or 4 antenna elements in one trim enclosure. Over 40 different models are available; they can even be configured without GPS for Data-only applications. The SMW antennas now make up the widest variety of Fleet Management Antenna Solutions in the industry.
The SMW Series Antennas are Made-in-the-USA and feature rugged, heavy duty construction. When performance matters as much as appearance, these sleek, multiband antennas provide field proven, dependable coverage. They are ideal for applications ranging from traditional long-distance trucking to Public Transit, Emergency Response or Mining.
About Mobile Mark, Inc.:
Mobile Mark, Inc. designs and manufactures site, mobile and device antennas for 600 MHz – 9 GHz. Applications include GPS Tracking & Fleet Management, Cellular GSM/CDMA, LTE, WiMAX, WiFi, RFID, Public Safety, Military and Machine-to-Machine (M2M). Engineering and custom design services available. Mobile Mark's global headquarters, which include research facilities and manufacturing plant, are located near Chicago, IL. An additional manufacturing and sales facility is located near Birmingham, UK. Complete information on the Ceiling Mount Antennas can be found on the website: www.mobilemark.com.